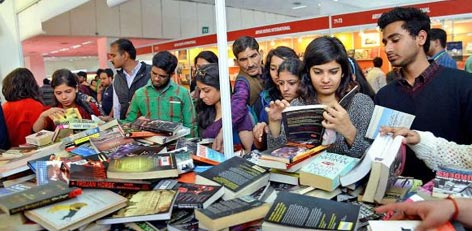 The Chennai Bloggers Club is happy to be  part of the fortnight long celebration of books in Chennai. The Chennai Book Fair is happening in Island Grounds Chennai. Usually the Chennai Book Fair happens in the YMCA grounds Nandanam. But this year it got bigger and better. Expecting a huge turn out the organizers have chosen Island Grounds. We must say it is a killer decision.
The stalls are much spaced out and there is a wide walking area where we can spend enough time in front of each stall without the fear of being pushed and pulled. The weekends saw a very high turn out. There are more than 500 stalls with more than 500 thousand books in display. A record number of books are released in this book fair as well. For Tamil book readers it is a treat to interact with their beloved authors and share their opinion about the works and also get the selfies clicked with them.
Our very own Anthology, After the floods will be available in Sixth Sense publication stall. Our short story anthology which chronicles the experiences of our bloggers during the Chennai floods 2015. You can meet the bloggers today if you visit the Chennai Book Fair today.
After the floods will be available in Stall numbers 350,351,442 and 443.
Happy Reading 🙂